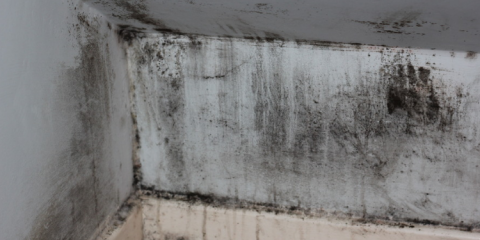 Finding a massive black mold infestation is something no homeowner wants to experience. Whether it's the result of a hidden leak or flood damage, black mold can cause grave problems for your entire family. At ServiceMaster of Columbia in Missouri, we've seen just how bad this problem can become, but we also know that if approached the right way, it can also be taken care of relatively easily.
So what should you do when you find black mold in your home? Here's what our mold removal team suggests:
Don't Wait: Waiting around is the last thing you should do after discovering black mold in your home. As soon as you see the infestation, you should call our team, so the evaluation and cleanup process can begin immediately. The longer you wait, the more you put your family's health at risk.
Don't Attempt Cleanup On Your Own: While it's tempting to try cleaning up a black mold infestation on your own, inefficient cleaning could fail to address the problem adequately. Our technicians will test the mold to confirm the severity of the growth and ensure the right cleaning techniques are used. After cleanup, we'll test your home again to make sure the infestation has been completely eliminated.
Take Steps To Prevent Future Mold Growth: Once the black mold has been safely removed from your home, you certainly don't want to have it return. Simple maintenance tasks, including caulking around windows and water fixtures in your home, as well as cleaning out your gutters can help prevent future leaks, flooding, and mold growth. Taking these preventative steps now will save you from further trouble (and cleanup costs) in the future.
From black mold removal to fire cleanup, we can restore your home, so it's in mint condition. To learn more about our services or to request emergency cleanup help, visit us online or call our technicians at (573) 443-8383.