Carpet Cleaning
A name you can trust.
More than 60 years ago, ServiceMaster Clean® began offering carpet cleaning services to homeowners. Since the 1950s, we have staked our reputation on our high-performing products and world-class service. That's why you'll see our distinct yellow vans in your neighborhood and others across the country.
Breathe new life back into your carpets.
No other item in your home absorbs more dirt and debris, and can affect the appearance of your home like your carpets. Many carpets available today have been treated with a stain resistant coating. However, even carpets that have been treated are not completely stain proof. Service Master Clean has spent years developing cleaning technologies and methods to remove even the toughest stains, such as wine, pet stains, coffee and ink.
Protect your investment.
We understand that your home is one of your biggest investments. As carpet is a substantial part of that investment, neglect or improper care can lead to matting, fading, fraying and premature and costly replacement. Regular, thorough cleaning by skilled ServiceMaster Clean professionals can extend the life of your carpet investment, maintaining its rich appearance in an affordable and consistent manner. Our research and development team works to ensure that we are using state-of-the-art products and processes to remove stains and reduce soil levels. We work to your specifications and guarantee the job is done right. Contact us to schedule service.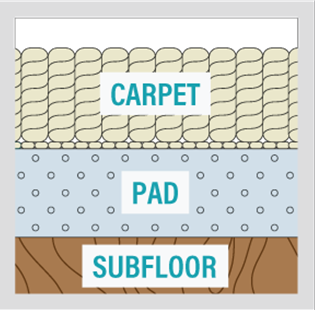 Professional carpet cleaning by ServiceMaster Clean helps:
Eliminate dust mites, allergens and trapped-in soil
Reduce the spread of germs, bacteria, diseases and mold
Remove stains and spots already present
Reduce the effects of wear, especially in high-traffic areas
Restore the natural, clean appearance and texture of the carpets
Extend the life of the carpets up to several years
Protect your carpet investment using Scotchgard™ carpet protector to prevent future spots and spills from settling in
Residential Upholstery Cleaning Services
Upholstered furnishings can soil quickly. But what about the dirt you can't see? Upholstery collects contaminants such as dead skin cells, oils and dust that are invisible to the naked eye. Removing invisible contaminants can't be done with just a vacuum. At ServiceMaster, we provide professional upholstery cleaning that's safe for most kinds of fabrics and removes stains and spots. We'll refresh and revitalize dirty, stained couches, love seats, chairs, ottomans, and mattresses with in-home furniture upholstery cleaning using proven methods and equipment.
Residential Tile & Grout Cleaning Services
Tile & Grout

Over time, tile floors and surfaces lose their shine and luster. Scrubbing and mopping do not generally yield the results needed for a deep clean. Because grout is porous and absorbs all the dirt and debris on it, mopping only removes surface soil and not the embedded dirt that causes the grout to become dull. ServiceMaster Clean® can restore tile and grout to a better clean. Our grout-sealing product helps maintain the cleaned grout for months and makes your regular home maintenance more effective. And, if your grout is discolored or you want to update the look, we offer grout re-coloring services in a variety of colors to suit your style.
You clean the dishes. We'll clean your tile and grout
Beyond just improving the appearance of tile and grout, professional cleaning by ServiceMaster Clean has several benefits:
It can help extend the life of floors by removing debris that can weaken the tiles
Our cleaning is safe for tile floors of all types including ceramic, porcelain, travertine and limestone
It helps you avoid the expense and inconvenience of completely replacing tile floors
We clean ceramic and porcelain tile and specialize in kitchens, baths, countertops and other tiled areas of your home
Types of tile we clean:
Common areas in your home that have tile:
Bathroom floors
Showers and tubs
Kitchen floors
Sunrooms
Countertops
Backsplashes
Do-it-yourself isn't always best
Put away that toothbrush and bottle of grout cleaner. Our tile and grout experts can clean your tile and grout more thoroughly and with less hassle. Retail grout cleaners only clean the surface of the grout, but a stronger cleaning method is the only way to truly deep clean porous grout. We use specialized, high-powered equipment and products that remove and extract soil from deep within grout. If grout is cleaned improperly over a period of time, it becomes permanently discolored and can only be restored by re-coloring. Don't waste time on ineffective cleaners; call ServiceMaster at 573-443-8383!
Residential Area Rug Cleaning Services
Help revive your area rug to its original beauty. Often placed in high-traffic areas, rugs can accumulate a significant amount of dirt and grime. While vacuuming can remove surface-level dirt, deeply embedded soil, odors and stains can remain. That's why you need experts with the skills and specialized equipment to truly return your rug to a brighter, plusher clean that's as enjoyable on the eyes as it is on your feet.
The Safest Most Effective Clean
High traffic area rugs have an increased risk for spills and stains. Stains detract from a rug's beauty and can make the rest of the room feel dirty and unkempt. While many home solutions can remove stains, a ServiceMaster professional carpet cleaning team has access to high-quality products, equipment that utilizes advanced technology plus the training and expertise for removing even the most stubborn stains. We can clean most types of area rugs from large to small and heirloom to the newest high-tech carpet fibers. A professional cleaning helps remove deeply embedded dirt, dust, pet dander and allergens that can affect anyone suffering from allergies or respiratory issues.