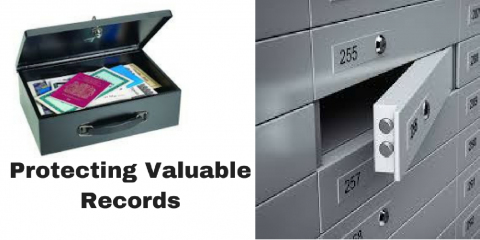 The key to an easy claims process and a smooth recovery is documentation. Secure your valuable papers in a waterproof, fireproof container.
Table 1 is a list of the valuable papers that need to be in a safe location outside your home, such as in a safe deposit box. This could be in the care of a lawyer, the administrator of wills, business associates or trusted family members residing outside of your home.
Table 2 is a list of valuable papers that need to be in your possession at home at all times in a waterproof, fire-proof locked box. This includes those documents that need to be readily available after a disaster when you may not be able to reach copies that are located in your other safe location.
| | |
| --- | --- |
| Table 1 | Table 2 |
| Property | General |
| Financial | Property |
| Identification | Financial |
| Other | Identification |
| | Health |
| | |
Table 1
Property— Property records (deeds, titles, leases)
Household inventory
Home improvement records
Automobile title and bill of sale
Copies of insurance policies
Financial
Income tax returns
Copyrights and patents
Contracts (including promissory notes)
Copies of insurance policies
Certificates for stocks, bonds, etc.
Important receipts and bills of sale
Supporting documents for years of large transactions, unusual losses, or deductions
Identification
Social Security cards
Citizenship papers
Passports
Birth certificates
Death certificates
Other
Divorce decrees
Adoption/custody papers
Military service records
Retirement papers
Religious records
Copies of your and your partner's wills
Trust agreements, living wills, powers of attorney, and health care powers of attorney
Table 2
General
Safe deposit box key
Safe deposit records and inventory of items
List of emergency contacts (doctors, vets, financial advisers, clergy, reputable repair contractors, and family members)
Property
Rental property records
Guarantees and warranties
Appliance manuals
Copies of insurance policies
Financial
Income tax returns
Current bank balances
Loan payment books
Employee benefits
Bank account, loan, credit card, investment account numbers
Identification
Social Security numbers
Driver's license numbers
Copies of citizenship papers
Copies of birth certificates
Copies of marriage certificates
Educational records
Health
Copies of immunization records
Copies of prescriptions for medicines and eyeglasses
Copies of veterinary/vaccination records
Health, dental, or prescription insurance cards
Follow this blog for the next several weeks for more posts on tips to be prepared in the event you would need to file a claim for a disaster.
ServiceMaster of Columbia, The Master of Disaster, 573.443.8383, serving Mid-Missouri.