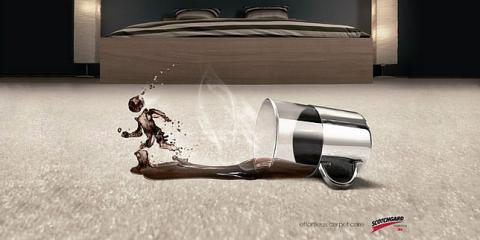 What Are The Advantages of Scotchgard?
Using Scotchgard in carpet cleaning needs, as well as for other reasons regarding furniture, artwork, and other products and furnishings in your home can often be one of the best decisions you'll make. In fact, there are quite a few tangible and direct benefits to using Scotchgard for a variety of different reasons. It remains one of the most effective (and cost-effective!) ways to protect your carpets, furniture, and other furnishings while providing and keeping high value and maintaining cleanliness.
Dust never has a chance to get down deep into your carpets when Scotchgard is applied, and it means you'll have to spend less money to clean carpets in the long term, thanks to the fact that your Scotchgard lining will prevent your carpets from holding and retaining dirt. You won't need to spend thousands of dollars on expensive carpet cleanings several times a year, since you'll be protected from the big problems and the underlying dust issues already.
For those who live in more humid climates, Scotchgard also works to protect carpets and furnishings from water, humidity, and the associated mold and bacteria that would otherwise be common in these instances. For folks who don't want to meticulously maintain their carpets every week through cleaning, too, Scotchgard works as a catch-all and a good safety and security base to start with when it comes to avoiding carpet cleaning issues and mold, bacteria, and more problems.
Another advantage of Scotchgard is the tremendous clarity and ultra-thin coating that it provides people. You won't even notice that it has been applied, or that you are using it on your carpets or other products – it works to apply seamlessly and simply every single time, and you'll have the enjoyment of understanding that you'll get a great results with minimal dimensional changes and minimal issues based on fluctuations in temperature, humidity, or other variables.
Should You Use Scotchgard?
Scotchgard, all in all, is a solid option when it comes to keeping your home, carpets, and furnishings clean and clear. It of course won't protect against everything, and you will need to do and use other cleaning methods occasionally, but using Scotchgard is a solid option when it comes to keeping your home clean and clear.
From a cost perspective, you are more than getting what you pay for with Scotchgard, too – you'll have the piece of mind knowing that you've made a solid investment with these products and with these cleaning supplies. You'll also know that in the long term, you won't need to worry about any problems with Scotchgard itself, as the product is designed to be used in the long run and used for years with its effectiveness remaining intact.
In all, Scotchgard is a very advantageous product to use to keep your home clean and to protect and coat your furnishings and more. For those already experienced with Scotchgard, or even for those who have yet to use it and enjoy its benefits, you'll find piece of mind and enjoyment from this solid product and its great results.
Currently our fall carpet cleaning special for ServiceMaster of Columbia is Scotchgard for $10 a room with a carpet cleaning. That is a 60% discount. Call 573.443.8383 today to schedule your carpet cleaning and Scotchgard protectant.