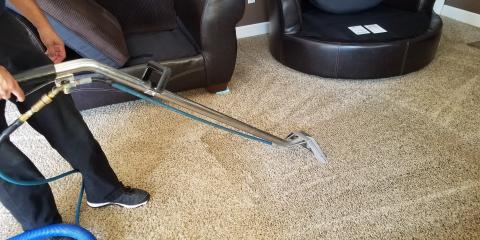 Getting your carpets cleaned freshens up the appeal of your home and lengthens the carpet's life span.
While part of the joy of hiring a professional includes having someone else do the dirty work, taking these pro-active steps can help make sure you get the cleanest carpet possible and the biggest bang for your buck.
Vacuum: Removing as much debris and dirt from the carpet fiber prior to a cleaning can help ensure your carpet cleaner focuses on the deep down soiled-in dirt. Some carpet cleaning services vacuum the carpet prior to beginning their work. Others rely on you, the homeowner, to do so. Ask your carpet cleaning professional whether or not you need to vacuum before they arrive.
Dust and clean baseboards and HVAC registers: While not dusting or cleaning your baseboards of HVAC registers prior to the carpet cleaner's arrival won't inhibit their job in any way, you should still complete these tasks. Clearing these areas of dirt and debris can help ensure the carpet doesn't become dirty quickly following a cleaning.
Move furniture, if necessary: Your carpet cleaner may offer a discount for focusing on high foot traffic areas or cleaning a room that's empty. On the other hand, you may want to ensure your carpet is totally clean from wall to wall. Some companies charge a fee for moving furniture, and others won't move your furniture at all, so ask about furniture when making an appointment.
Remove smaller items from the floor: Floor lamps, waste baskets, toys and clothing or shoes should all be moved out of the area that requires cleaning. It's also a good idea to lift up and secure things like bedspreads, drapes or dust ruffles with a clothespin to prevent them from getting in the way of a carpet cleaner's tools.
Free up a parking spot: If your carpet cleaner uses truck-mounted equipment, they'll need to park their vehicle as close as possible to an entry door in order to run hoses for their cleaning equipment. Make sure your family's vehicles aren't obstructing their work.
Point out areas of concern: We encourage the customer to point out stains when scheduling the appointment.  It helps the technician to be prepared when cleaning carpets.  Customers can show a professional carpet cleaner the stains, spots or high traffic areas you're most concerned with will help make sure the carpet cleaner won't miss those areas during the cleaning process. There may be additional fees for stains.
ServiceMaster of Columbia offers carpet cleanings during the week 8:30-4:30 pm.  We are currently running special on Scotchgard to help with stains.  Scotchgard a room for $10, a 60% savings, with any regular carpet cleaning.  minimums apply.  Call 573.443.8383 today to schedule your carpet cleaning.