COVID-19 Cleanup
Certified COVID-19 Cleaning
No one could have planned for COVID-19, but here's how you can keep your co-workers, friends and family safe with Servicemaster of Columbia.
Utilizing an airless application, the team at Servicemaster uses Sani-Master 7, a COVID-approved cleaning product, to clean approximately 12,000 square feet in just a few hours. When they're done, you'll get a certificate of COVID-19 cleaning on your door, and most importantly, you'll get peace of mind.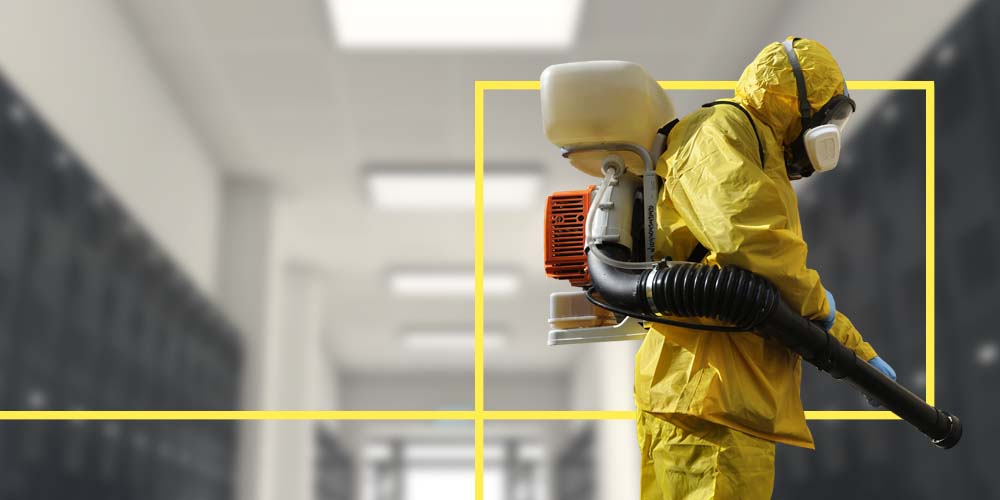 FAQs
Want to know more about emerging and infectious diseases and how to reduce their spread? We have the answers and solutions.
1) How do we reduce the spread of infections & emerging diseases?
There are various pathogenic microorganisms that can be infectious, which have differing levels of difficulty to inactivate . Many of the recent emerging pathogens we have seen are enveloped viruses, including Coronavirus (SARS-CoV-2). Enveloped viruses are more susceptible to disinfectants, so they are less difficult to inactivate. This also means, however, that they are easier to spread and re-contaminate.
2) When should I call in a professional?
If your facility has had confirmed or possible exposure to an infectious disease you may want to call in a professional like ServiceMaster Restore to disinfect.
3) What is Recontamination?
Though we disinfect using the recommended products and protocols, someone entering the space can then re-contaminate after the disinfection.
4) What can I do to protect myself?
Follow CDC recommendations including using appropriate hand hygiene, respiratory etiquette, and social distancing.
Maintain general preparedness: Your business continuity response plan should include protocols for infectious diseases and pandemics. Maintaining routine cleanliness and encouraging hand hygiene and respiratory etiquette are great ways to keep yourself and those around you healthy.If you need help disinfecting your facility, the experts at ServiceMaster can help.
5) How can ServiceMaster restore help?
Our expert technicians are trained to clean first to break organic loads and remove gross soiling. Then they sanitize or disinfect as appropriate. They are capable of completing large-scale disinfection of facilities with an enhanced focus on high touch and common areas where contaminants could be easily spread (Elevator buttons, escalator rails, material handling equipment, break rooms, front counters, etc).
When we do this, we follow the guidelines set in place by the CDC, EPA, FDA, WHO, etc. There are many methods of disinfection and you can be assured that your technician is trained to do each in the recommended manner. Our technicians also use appropriate PPE (Personal Protective Equipment) with your security and privacy in consideration.
ServiceMaster Restore has the experience, knowledge, training and national network to meet your needs on an ongoing basis. Disinfection goes beyond a standard cleaning service and requires specific protocols.
Our disinfection services include:
Wearing appropriate PPE as determined by the most up-to-date CDC guidelines and taking your privacy into consideration when it comes to donning and doffing PPE.
Using EPA registered and approved products from the EPA's List N, which specifically meet the criteria for use against SARS-CoV-2, the virus that causes COVID-19.
Cleaning before disinfecting, a step that is required for true disinfection. We apply specific cleaning techniques to reduce reapplication of soil on surfaces.
Disinfecting after a proper cleaning. We always apply the disinfectant following the product label protocol, including selecting the equipment to apply the product and leaving the surface wet for the required dwell time for the disinfection to be effective as specified by the EPA registered label.
Cleaning up discarded materials and single-use PPE, sealing our soiled materials for proper disposal.